Since moving in 3 years ago today, we've had project after project going on. Even though we are no where near finished we have gotten a lot done.
The previous owner loved wallpaper. She had either wallpaper or wallpaper border in every room in the house. Every room. Ugh. Well the wallpaper was just stuck to the dry wall. No primer, nothing. It was a nightmare to get down. It took half the sheet rock with it.
So we had to re-mud the entire hall bathroom and sand it down. We're currently doing the same to the master bath since our dumb selves painted over the wallpaper. I so do not recommend doing that.
Same scenario. Wallpaper stuck straight to the wall. We're currently mudding it right now. Working on sanding the first layer of mud. We've got one layer left, sanding then we are going to mix primer with the mud and roll it on. Cover whatever imperfections are left from just sanding. Then, sand again. Then prime and paint. We're also going to rip up the linoleum and put tile down. So we still have a while before we can move back in to our master bath.
Here's a few pictures to give you an idea. ;)
This is what the wallpaper looked like. Hubby is taking the mirror down. We tried to save it. We were just going to have it cut down a little since it was so huge. Well, we didnt know that they had the epoxy crap ever 5 inches on that mirror. I was not happy.
This is what happens when wallpaper is stuck straight to the wall. No primer, nothing. This happened in both the front and back bathrooms.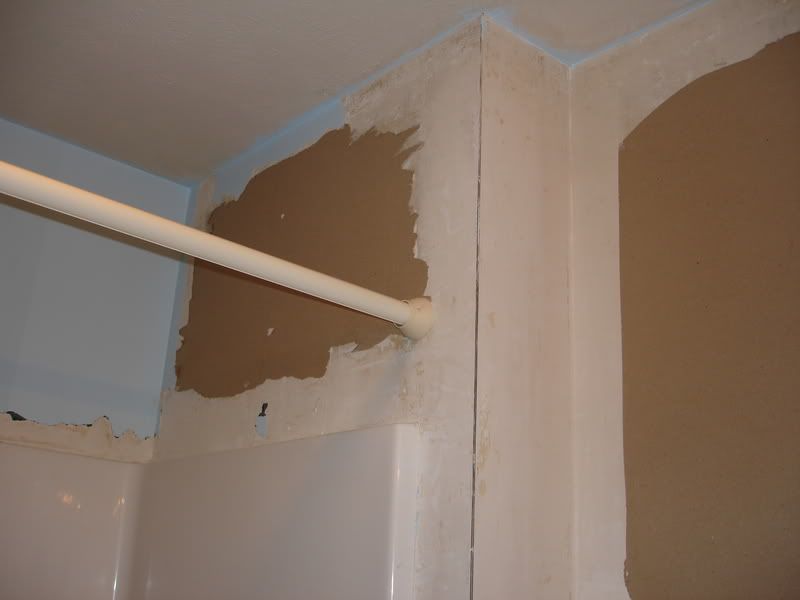 Excuse the mess. *blushes*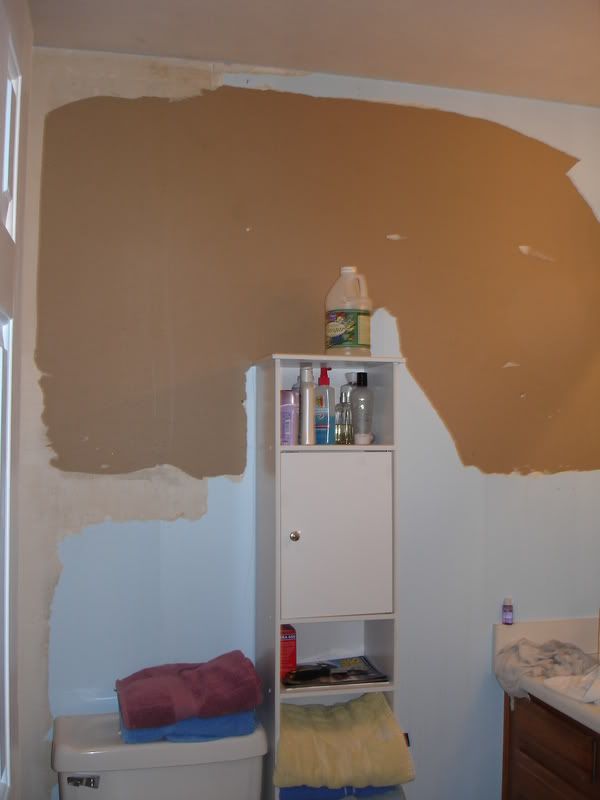 So this is where we stand now. This is our current project. Right now there isn't much to see as far as an updated picture goes. We still have to take the current light fixture down and fix whatever impurities are around it.
I have to go vacuum up the dust in a minute so I'll get an updated picture then.